BRASH YOUNG CINEMA
Basement, S&L (Unisys) Building,
de la Rosa corner Esteban Street,
Legaspi Village, Makati, 1229

e-mail me: joeypogi@i-manila.com.ph
last updated : AUGUST 29, 2001
it seems you have to refresh this screen once in awhile, to get the latest update,
so please do =)

This site was made for the sole purpose of helping movie buffs find places to watch alternative movies (foreign, independent, experimental, etc.) in Metro Manila.

JAPANESE FILM FESTIVAL, ATENEO KINOSCREENINGS, ALLIANCE FRANCAISE, INSTITUTO CERVANTES, TITUS BRANDMA and UP FILM CENTER BELOW!

AUGUST 29, 2001

UP FILM CENTER

Thank you UP Film Center...=)

UP Film Center premieres Lina Wertmuller's erotic period comedy

The Japanese Classic Night at the UP Film Center Cinema-Theater originally scheduled on Thursday, 30 August 2001, at 7 p.m. is moved to a later date. Instead, a special premiere courtesy of TMV Films International will push through. Admission is free on a first-come, first-served basis.

Featured film is Lina Wertmuller's erotic period comedy entitled Ferdinando and Carolina starring Sergio Assisi and Gabriella Pession.

Set in Naples of the 1820s, the film tells of a king's reminiscence of his political marriage with an empress' daughter just at the time that he was having fun—hunting and inventing love games. It is one of the more recent films by Wertmuller—the Italian filmmaker most famed for Swept Away (1975) and Seven Beauties (1976).

Wertmuller is the first woman ever nominated for best director in Oscar history. Born to an aristocratic Swiss family, she grew up to be an enfant terrible. As an influential Italian director, she caused a sensation in the 1970s. Her films have made their respective mark in such renowned festivals as Cannes, Berlin and Locarno.

The director's cut of Ferdinando and Carolina will be shown in 35mm print in Italian with English subtitles as part of the UP Film Center's Cinemalibre offerings for this month. #

Ferdinando and Carolina A film by Lina Wertmuller "…by far the most exquisite wedding night in the history of cinema!"

AUGUST 27, 2001

a couple of things today...

UNITED FEDERATION OF PLANETS INVITATION

My friend Paolo has just thought of forming an official Star Trek group, which incidentally would be the first in the Philippines if not in Asia itself. We thought of having a meeting every Sunday (but probably every first Sunday of the month) to watch movies, watch Trek TV series and maybe even (Gasp!) where Trek uniforms! Anyway Paolo is still registering with the United Federation of Planets in the States and finding out more about how to go about forming a club so in the meantime you can subscribe to upfi-ph@yahoogroups.com So all ya Trekkies out there this is it! Our time has come!!! Incidentally I have all Star Trek movies on laser disc including the Next Generation, except for one, which I can't remember, thanks to my bro-in-law. And Paolo has all the Next Generation TV series on his computer and I'm sure there is mores stuff out there and so we are all set!

PINOYDVD.COM

I have just been introduced to this really awesome website called pinoydvd.com which is a website dedicated to all DVD afficionados in the Philippines! Due to our lack of access to art films and other good movies in the Philippines, DVD's are our best resource and this site makes finding such hard-to-find movies on DVD simpler. And I also learned from them that if you want to order DVD's from HK you can use dvdshelf.com and if you want to list all your DVD's go to dvdtracker.com and dvdaficionado.com for easy DVD listing.

ANNUAL BOOKFAIR

The annual Philippine Book Fair will start on Sept. 2 in the MegaMall MegaTradeHall (ya know the top of MegaMall where they have all those conventions). This book fair rocks because every small publisher in the Philippines is there, really interesting stuff. Like last year I remember this guy from the Iranian embassy was there with all sorts of books maybe this year he'll have movies! Anyway, check it out! And don't forget Ayala Museum is also having a Philippine currency exhibit till the end of this month, which should also rocks for all you numismatists (like me).

A BYC ANNOUNCEMENT

And you know, we are all going to direct movies one day, so start sending them in! So that we can start showing them at Brash!

ASTROVISION

Just got this from pinoydvd.com, the best place to find DVD's in Metro Manila is ASTROVISION! And so here are the addresses and the contact numbers of all their branches.

Here's the list of branches and phone numbers of Astrovision (from the plastic bag):

Virra Mall
D-13 Langka Lane, Virra Mall 2nd Floor, Greenhills, San Juan
Tel. Nos. 721-4985 · 721-4986 · 725-0777 · Fax 726-1927

Farmers New Plaza
Lower Ground Floor, Unit 31, Cubao, Quezon City
Tel. No. 911-1511

SM City
Ground Floor, SM City Main Bldg., North Avenue cor Edsa QC
Tel Nos. 920-1531 · 920-1542 · Fax 928-3350

SM Megamall
Bldg.A 3rd Level, Edsa cor Julia Vargas, Mandaluyong, MM
Tel. Nos. 633-1793 · 633-1731 · 633-5067 · Fax 633-1707

SM Centerpoint
Ground Floor, Aurora Blvd., Sta. Mesa, M.M.
Tel Nos. 716-1544 · 716-1545 · Fax 715-0532

SM City Cebu
3rd Level, Reclamation Area, SM City Cebu
Tel No. (032) 232-1657 · (032) 232-6911

SM Southmall
Ground Floor, Zapote Rd., Las Pinas, M.M.
Tel. Nos. 800-0605 · 800-0607 · Fax 800-0606

SM City Bacoor
Upper Ground Floor, Terona cor Aguinaldo Highway Bacoor, Cavite
Tel No. (048) 970-5322

SM City Fairview
Upper Ground Floor, Quirino Highway cor. Regalado Avenue, Fairview, QC
Tel. No. 417-6580

SM City Fairview 2
2nd Floor, Quirino Highway cor. Regalado Avenue, Fairview, QC
Tel No. 417-9554

Robinsons Ortigas
3rd Level, Expansion Mall, Robinsons Galleria, Ortigas Cor. Edsa
Tel No. 636-3173

Robinsons Place Manila
3rd Level, M. Adriatico St., Ermita Manila
Tel. Nos. 536-3228 · 526-5091

Robinsons Place Imus
Upper Ground Floor, E. Aguinaldo Highway, Imus Cavite
Tel Nos. (044) 471-8282 · 471-8283

Robinsons Place Bacolod
Ground Floor, Lacson Street, Bacolod City
Tel No. (034) 441-0587

Sta. Lucia East Grandmall
2nd Level, Phase III, Marcos Highway cor. Felix Avenue, Cainta Rizal
Tel. No. 681-5225

AUGUST 26, 2001

ISHMAEL BERNAL FILM FESTIVAL

The Ateneo Arts Club will now be celebrating Ishmael Bernal, the new National Artist for Film (Pambansang Alagad sa Sining)with a film festival starting this Monday, August 27, until Friday, August 31.

The program is as follows:
Broken Marriage
---> 430 p.m. Comm Studio
Himala
---> 430 p.m. Comm Studio
Relasyon
---> 430 p.m. Rizal Lib MMR
Nunal sa Tubig
---> 430 p.m. Faura AVR (tentative)
Manila by Night
---> 430 p.m. Comm Studio

Priority is given to Arts Club members. There will be speakers from the Filipino Department. This film fest is brought to the Ateneo community by CCP and our org, the ARTS CLUB. See you!

BRASH YOUNG GUESTBOOK

Yahooo!
I just discovered a free guestbook (www.guestbook.de) over the internet!
So if any of you guys want to put in a comment, a suggest an idea, recommend a video, ask a question or just say hello, click here! (be nice!)




AUREAUS SOLITO'S SHORT FILMS

Aureaus Solito's short films will be shown this August 30 (Thu), 10 PM at Sanctum in Chamber 9, Puerta Isabel II Muralla St., Intramuros, Manila, tel. 5235407. The fee wis a hundred bucks which will be used to fund his upcoming new film BASAL, which is about the people of Palawan. I hope you can support this movie coz I believe that Aureaus is one of the bright rising stars of independent cinema here in the Philippines and is really, really good! His previous works include HULING EL BIMBO MTV by the Eraserheads and IMPENG NEGRO, both of which and more will be shown this Thursday.

And of course, we will be showing REQUIEM FOR A DREAM this August 30 (Thu) at Brash at 9 PM, which also kicks ass! So its up to you whether you want to watch excellent independent Filipine films or excellent independent American films. They both rule!!!

BYC SCHED FOR THE MONTH OF AUGUST SO FAR
(if you have anything to submit please e-mail me)

August 25, Sat, 8 PM, SID & NANCY, starring Gary Oldman

and these are the nights JJ is handling for the BYC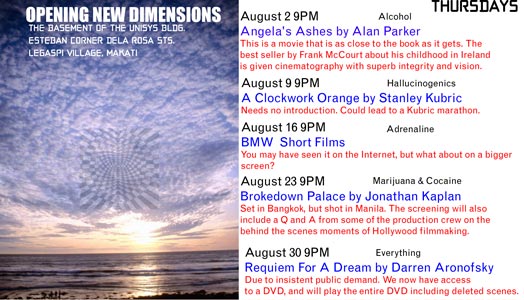 designed by JJ Duque go to his website at, http://boracay420.tripod.com/

if you want to get film schedules e-mailed to ya, please put your e-mail in the blank below if you want to talk about movies and stuff, please put your e-mail in the blank below IMPORTANT ANNOUNCEMENT

MOWELFUND

MOWELFUND starts its annual short film workshop this August 27. They will teach you and help you create your first short film on 35 MM film!!! Applications must be in by August 18 & 19, 1-3 PM Interview, 3:30-4 PM Orientation. Trust me, if you want to learn film fast, take this class, even if you are working, and it is really worth it coz you'll learn everything about filmmaking instantly at a very inexpensive price. Why waste your money on NYU, this one is better! (naks =) Anyway, do not miss this opportunity, all of you aspiring filmmakers, just don't!

Call 7271915 and 7234058 and fax 7272033 to get more info!

AUGUST 20, 2001

TITUS BRANDMA CENTER

Just got a new sked from Titus Brandma Center, but instead of me writing it up, here's Francis with all the details =)

We've been toying with this line-up for months & we thought, now is the time to show it. So on September 8 (Sa), we're showing what could arguably be the most controversial films: SALO by Pier Paolo Pasolini & IN THE REALM OF THE SENSES by Nagisa Oshima.

The 1975 Italian film is an adaptation of 120 DAYS OF SODOM by Marquis de Sade & according to Leonard Maltin of ENTERTAINMENT WEEKLY, it's sadism, scatology & debauchery galore.

As for IN THE REALM OF THE SENSES, all the Playboy videos is kid stuff compared to this 1976 Japanese film. Based from real events that took place during the early 30s, it's about a sexually insatiable woman who would do anything to keep her husband.

Before we show both of these films, our appetizer is SANTRA SANGRE by Alejandro Jodorowsky. According to Maltin (again), this 1989 Mexican-Italian picture is a grotesque story of an entertainer whose act consists of providing arms to his armless mother - & also as an unwilling murderer as well. It's a movie filled with magic symbolisms & lots of blood.

Kindly confirm your presence so it can be decided early if the screenings will be held at the Carmelite Room (25 - 30 seating capacity with air con) or at the usual venue, which can accomodate a bigger number of viewers.

E-mail Maxie (maxieevangelista@yahoo.com or mpce3@edsamail.com.ph) or call him (832 - 1125 local 2113 / 551 - 4676) during weekdays or through cellphone (0917 - 9183182).

and in another e-mail, more details from Francis...

The Japanese Animated Film Festival will be held at Shangri La Cinema 2 from August 31 to September 4. It's free of charge.

On September 5 or 6, EL ABUELO by Jose Luis Garci will be shown at UP Film Center. It's the 1998 Best Foreign Language Film Oscar nominee. You have to confirm with UP about the exact date.

Then Cine Europa 4 will be from October 9 to 20 at Shangri La while the Israeli Film Festival will be held on November.

Thanks Francis!

UP FILM CENTER
for the month of August

28 Tuesday 4 & 7 p.m. The Phantom of the Opera
30 Thursday 7 p.m. Harp of Burma Biruma no tategoto
31 Friday 3 & 6 p.m. Remember the Titans

NIHON EIGA SAI: ANIME ON PARADE SCHEDULE
The Japan Foundation Manila Office, Tel: 811-6155 to 58, Fax: 811-6153, email: cstamaria@jfmo.org.ph or visit www.jfmo.org.ph.

SCREENING SCHEDULES:

Tanghalang Manuel Conde
(CCP-AVR), CCP Complex, Roxas Blvd., Pasay City, Tel: 832-1125
28 August, 5:30 p.m., Madcap Island, 7:30 p.m., Night on the Galactic Railroad
29 August, 5:30 p.m., Taro, the Dragon Boy, 7:30 p.m. Akira
30 August, 5:30 p.m., The Return of Pero, 7:30 p.m. The White Snake

Cinema 2, Shangri-La Plaza Mall
EDSA corner Shaw Blvd., Pasig City, Tel: 633-7851
31 August, 3:30 p.m., Taro, the Dragon Boy, 5:30 p.m., Night on the Galactic Railroad, 8:30 p.m., Tombstone for Fireflies
1 September, 3:30 p.m., Grimm's Fairytales: The Golden Bird, 5:30 p.m. The Return of Pero, 8:30 p.m. Akira
2 September, 3:30 p.m., Madcap Island, 5:30 p.m. Grimm's Fairytales: The Golden Bird, 8:30 p.m. Tombstone for Fireflies
3 September, 5:30 p.m., Barefoot Gen 1, 8:30 p.m. The White Snake
4 September, 5:30 p.m., The Orphan Brother, 8:30 p.m., Tombstone for Fireflies

They will be holding a children's activity in relation to our film festival? They are scheduling children's anime on the weekend of September 1 and 2 at the Shangri-La Plaza Mall Cinema 2 lobby from 2 in the afternoon. There will be storytelling sessions, an origami session, and a mini -exhibit of toys and Japanese books for kids. It's absolutely free.

ALLIANCE FRANCAISE FOR THE MONTH OF AUGUST

August 29, WHITE
Directed by Krzystof Kielowski with Julie Delpy. 2ndpart of "Three colors." Seductive love story of a man who seeks vengeance after he is abandonded by his wife. (French version w/ English subtitles) Alliance Ondeo Auditorium, 8 p.m

INSTITUTO CERVANTES
August 30, MARTIN FIERRO (1968) by Leopoldo Torre Nilsson 730 PM based on the book by Jose Hernandez, it is the story of the rebel gaucho Martin Fierro

KINOSCREENINGS
Now showing at the Ateneo Comm Department

August 30, Thu, 5 PM FALLEN ANGELS by Wong Kar-Wai

September 6, Thu, 5 PM LOOKING FOR RICHARD by Al Pacino
September 13, Thu, 5 PM TITUS by Julie Taymor starring Anthony Hopkins
September 20, Thu, 5 PM RAN by Akira Kurosawa this should rock!!!
September 27, Thu, 5 PM, HAMLET by Michael Almereyda

AUGUST 17, 2001

AYALA MUSEUM MONEY EXHIBIT

Ayala Museum is having a Philippine currency exhibit until the end of August, which should be kewl, and if you have time, check out the ships and galleons too, they rock!

You are sooo money, hehehe

AUGUST 13, 2001

DIFFERENT FILM EGROUPS

My frequent perusals of the internet have help me dig up more egroups that are really interesting for all of us independent filmmakers.

filmthreat@yahoogroups.com
i just discovered it, its seems to be the biggest indie magazine in the world and they send you free articles by e-mail every week!

filmdestroyer@yahoogroups.com
moderated by Ramon De Veyra, gives you an inside look at who I think are the coolest group of filmmaker the Ateneo has produced

kinoscreenings@yahoogroups.com
moderated by Andrew Ty, this is virtual version of the Ateneo cinelover club formed by Marc Escaler, Andrew Ty and, of course, Fr. Nick Cruz, S.J.

cinemalibre@yahoogroups.com
the mailing list of the UP Film Center and one of my favorite mailing lists coz they really provide a lot of information on the Filipino film scene.

sineklab@yahoogroups.com, sknews@yahoogroups.com, skmindanao@yahoogroups.com
the CCP filmlovers club, I still haven't been able to meet up with this group but I want to soon.

and, of course,

brashyoungcinema@yahoogroups.com and brashyoungcinema_forum@yahoogroups.com =)

so anyway, if you know of any other good ones out there, please e-mail me, so that I can put em on this list.

THE FILMS OF QUARK HENARES, RAMON DE VEYRA, CHRIS COSTELLO AND MO ZEE

Sulyap
(A short film by Mo Zee)
A real-time encounter between a sampaguita vendor and a yuppie. (4 mins.)

Slumber Party
(A short film by Mo Zee)
4 friends get together over chips and lambanog. Mayhem ensues. (9 mins.)

Dikdik
(A short film by Mo Zee)
A drug deal gone sour. (10 mins.)

The Last Day
(A short film by Ramon de Veyra)
One guy has 3 tasks to do before graduation, including humiliating a teacher. (15 mins.)

Quark Comes Out
(A short film by Chris Costello)
A final desperate attempt at love during the final days of college. (14 mins.)

At Laging Meron Pa
(A short film by Chris Costello)
A "sliding doors" type narrative, pre- and post-suicide. (5 mins.)

Saging at Rambutan
(A short film by Quark Henares)
Mockumentary on low-end video porn.

A Date With Jao Mapa
(A short film by Quark Henares, featuring Jao Mapa as himself)
Jao Mapa is the biggest teen idol of yesteryear, and Alexa is his biggest fan, the fan who loves him a little too much. When Alexa takes that love to questionably higher degrees, the results are… damn well shot. (20 mins.)

hopefully, we'll have a rescreening of everything again soon. we'll keep you up to date =)

August 8, 2001

I must warn you that my website is basically about Robert Rodriguez, Kevin Smith and the directors from Propaganda Films. Though I do cover all movies, these are my favorite topic. So without further ado, I bring to you Troublemaker Studios , Robert Rodriguez's official website and View Askew , Kevin Smith's official website and Propaganda Films , Propaganda Film's official website. Thank you. =)

Just discovered two other websites thru e-mail, www.filmthreat.com and www.ugo.com interesting sites trying to cater to the underground scene.

August 7, 2001

Between running a website, printing a newsletter, and trying to run a little screening room, all this is starting to become a lot of work, but heck, I guess to a former bum, anything is a lot of work, hehehe, so when am I going to direct a movie? =) anyway so here's the latest from the BYC desk

July 29, 2001

WISH LIST

Does anybody have copies to Tom Tywer's (RUN, LOLA, RUN) other movies? Like The Princess and The Warrior and WinterSleepers?

TECH CENTRAL VIDEO STORE

I just want to get this off really quick before I sleep, Margie, my girlfriend brought me to this place in Makati Cinema Square called Tech Central. It is located one floor above Video Takeout. Just go up the escalator and it will be on your left. Its full of blue computers. Anyway what is fantastic in this place is that it is complete in the DVD's I want to watch! And they rent it out! It's got all the good Jet Li's! The complete first season of Sopranos. DVD boxset of Bruce Lee. James Bond. The best of Saturday Nite Live. and all these other stuff which I can't remember right now. But ultimately it is complete in almost any movie I want to watch! It is amazing! So anyway, I'm going to become a member in this place and then i'll try to show some of their stuff at the BYC. So anyway, these will be quick announcements thru the mailing list and thru this website, so sign up for the mailing list and keep on refreshing this website to keep up to date. Thanks!

BAAAAAAAAAAAAAAAAANNNN ROTC!!!!!!

July 27, 2001

I don't want to read it (coz it might spoil it, hehehe). But aintitcool.com just wrote an article about Quint interviewing Jon Favreau about SWINGERS and MADE, which should rock! link

July 25, 2001

A David Fincher website!!! It doesn't seem to be quite finished yet but it has potential, and according to a post on aintitcool.com, he's directing Rendezvous with Rama, which is an Arthur Clarke novel, all on CGI! Which should rock! It seems that CGI has finally taken Hollywood by storm or always has and we just never knew about it. Also Hammer of God (not by Arthur Clarke) but directed by the director of Blade, Stephen Norrington, is coming out. It seems to be a Chinese sword movie, but I think more battle scenes, not one-on-one like in Crouching Tiger. Anyway, I also got that tidbit of news from aintitcool.com. So better head on to aintitcool.com to get all the latest info! Thanks, Harry!

VINCE'S BOOK

My friend, VINCE SALES, has just published his first book called, CHILDREN IN EXILE, an anthology of short stories. According to my classmate TJ, it is a book about "growing up and OUT of the magical world we all once inhabited as innocents, and the burden of living in exile in the real world." TJ's wife, Maisa Deluria, illustrated the book. I dunno when and where the book is officially launching but if you want a copy earlier just e-mail me. Vince, for me was one the best writer's of my class, and so I am looking really forward to reading this book. He also has a novel in the works, which should also be kick butt!

July 20, 2001

I have this enjoyable pastime of filling up lists and surfing on amazon.com. Though I never have the money to buy anything on amazon, I get a great buzz, just thinking about the things that I could possibly buy! You should try it some time. You can make a wish list, a list of things you like and best of all when you are done, amazon sends a list of recommendations to you which serendipitously are the books, movies and music you wanted in the first place! I love amazon!

MY (HOPEFULLY GROWING) COLLECTION OF VIDEOS AT THE BRASH YOUNG CINEMA

DVD's
Samurai 1
Dune
Early Film (Edison, Lumiere Brothers, Melies)
Early Film 2 (George Melies)
Butch Cassidy and the Sundance Kid

VHS COPY
City of Lost Children

LASER
Chinatown
Gorky Park
Apocalypse Now
lotsa Schwarzenegger, Ridley Scott, Paul Verhoeven, etc. which I have to list down

LETTERMAN

To all you David Letterman fans, channel 64 (or 63, was it), basta channel E! shows David Letterman every weekday at 10 PM. And Meet the Press with Tim Russert is shown every Sunday night at CNBC at on channel 11. I've heard NU107 has just opened up a channel on UHF which I haven't been able to locate so please e-mail me where this is found. And Wolf Blitzer, you suck! =) hehe.

SOME THOUGHTS ON FILMMAKING

To put it bluntly, FILIPINO MOVIES SUCK! But to also say that Filipino movies had me in mind while they were making their movies would be foolish. In my little experience in moviemaking, I realized that those who make Filipino films work really hard, it's just that those movies were not made for me. Moviemaking is a business. It costs money to make and so you must expect money in return. But that was before. Now that we have Digital Video (DV), home PC editing and the power to telecast movies over the Internet, there is no reason why we can not make movies the way we want them to be. All you need is a digital video camera, a PC and a website to show it on. But where will you get the money for all that? Well you have to work for it, silly. Unless, of course, you have parents who will sponsor you. Or have nice friends who you can borrow from. And so now you can make your movies! But how will you get people to watch your movies? Well you have to market it plus you have to make your content compelling enough for people to watch. Well what if still nobody wants to watch your movie? Then, my friend, you are an artist and nobody understands you, hehehe. But forget that! Either people watch your movies or they don't. But as long as you keep on making movies, someone will like you eventually. And if still nobody likes them, Tough! Get on with it! But never give up! I think this world would become a better place if we are always making movies. How do I know that? Well it's just a hunch. And so what's next? So you have made your movies and people are watching them. So now you can sell your stuff to TV channels or movie studios or on the Internet. Or you you can set up your own website and make money off advertising and subscriptions. Or maybe you can even start printing your own DVD's and selling them to your friends. And then what? Well then, now you are FAMOUS! And you can have all the angst you want, because you are now totally, officially and finally a FILMMAKER! =)

THERE IS MORE! PLEASE CLICK HERE FOR PAGE 2 TO FIND THE COOLEST MOVIE VENUES, LINKS AND OTHER SITE AND WEBSITES HERE IN THE CITY!!!