SYNOPSIS OF THE FILMS

1. AUSTRIA - Suzie Washington (1998) by Florian Flicker
Nana, a former Soviet national, is on her way to an illegal entry to the US but she is thwarted at the Vienna Airport. She manages to escape before being deported. For five days, she travels illegally throughout Austria, ostensibly as a tourist, constantly changing her traveling companions, means of transportation and living quarters.

One of the people who help her during her unintended travels as an illegal tourist is a shy vacationer. When the people begin a search for Nana and circulate her photo, and when through a moment's inattentiveness she loses her baggage and money, Nana decides to try to get to Germany and go underground.

Accompanied by a bank robber on the run, she makes it to the border, the no-man's-land between Austrian and Germany. She fails in her attempt to cross the border
illegally, and Nana is given shelter by the manager of a mountain lodge, who would be only too happy to keep her there. But Nana has other plans.

2. BELGIUM - Gaston's War (1997) by Robbe de Hert


In 1942, once again the young Fleming Gaston Vandermeerssche, who belongs to the resistance movement, has to rescue two English air pilots, Harry and Doug, and together with his "assistant" Veronique, escort them to the Spanish coast. Crossing France and the Pyrenees has become increasingly dangerous and Gaston would feel more useful in London. The Allied Special Operations Executive have other priorities: they want the Nazis to believe they are preparing to land in the Low Countries, but the Dutch resistance network is in the hands of the Germans. Gaston is appointed as the head of a new network to be operated from Belgium with the help of Miep Visser, Johan Cohen and Violette. Gaston is reckless and naïve enough to accept.

Ruthless Major Smith, Security Corps boss, receives alarming news of denunciations and arrests in Belgium and Holland. His secretary, Nicky, is surprised to see that he doesn't take this into account. Nicky has met the pilot Harry and knows of Gaston's heroism. In vain she takes a stand for him. Doubts are irking her mind. Are the British deliberately sacrificing hundreds of agents to deceive the Germans into believing they are in control? Meanwhile, Gaston and Veronique are arrested. Gaston's survival was not planned by London though.
3. DENMARK - Bye Bye Bluebird (1999) by Katrin Ottarsdottir
There is colorful provocation and revolt against the past in the director's Faeroe road movie. Two young girlfriends, Rannva and Barba, return to the islands of their birth from years abroad and the sparks fly: the girls arouse curiosity and indignation by their bizarre big-city style and lack of restraint. But there is more to their mission than you'd think. Both have skeletons in their closets - particularly vis-à-vis their families - and now everything is to be brought out into the open. The girls get a lift from Runi, a local drifter who also proves to have a dark secret, and the trio set off on a journey not only across the beautiful Faeroese landscape but also into the land of the past.

The grand unspoiled landscape stands in glaring contrast to the inhospitality, suspicion and pettiness of the reclusive island settlements the girls travel through. But the director, herself from the Faeroe Isles, also has something affectionate and humorous to say about her home. En route the girls also meet warm-hearted people with their own hopes and dreams and a profound attachment to the wind-blown islands.

4. FINLAND ­ Classic / Klassik by Kari Vaananen
The movie is a hilarious story based on a best-selling Finnish novel by Kari Hotakainen. The main character is the writer himself. Praised by critics but shunned by the book-buying public, he is asked by his publisher to write a self-revealing diary of his early years as a writer.

Desperate attempts to find inspiration to write this best-seller throws the writer into a world of fast cards and the story into an accelerating tailspin. A disagreement over the ownership of a certain Alfa Romeo 75 Twin Spark between a second-hand car salesman, an unemployed roughneck and a writer desperately seeking fame finds resolution in a police chase broadcast live on Finnish television from the motorway; the last bastion of real men in their own-powered cars.

The story binds together the writer's pseudo-diaries and the reality of traditional Finnish men and society. The outcome is fast moving and stunningly funny.

5. FRANCE - My Little Business / Ma Petite Entreprise by Pierre Jolivet
A fire has broken out in the little cutting business of Yvan. The building is saved but not the machines! Luckily there is the insurance, which hopefully will pay to replace the C.25, an expensive wood cutting machine. Everything depends on Maxime, the insurance broker. However, things come to a standstill after the insurance inspector's first visit. Does Maxime think Yvan has committed arson? Yvan runs the business since its creation by his grandfather in 1930. It's no longer a fire in the business but in the boss' head!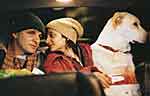 6. GERMANY - Night Shapes / Nachtgestalten (1998) by Andreas Dresen
The Pope is in town and the night of his stay is anything by heavenly for some of Berlin's inhabitants. When the homeless Hanna finds 100 German marks, she and her friend Victor want to splurge it all and spend the night in a hotel. Their search for a room escalates into a chaotic journey through the city as well as a very hard test of their relationship. The farmer Jochen is in Berlin looking for female companionship and bumps into the streetwise teenage prostitute Patty, who agrees to spend the entire night with him for a set price. But Jochen's impossibly romantic fantasies are destined to collide with Patty's sharp business sense and his disappointment turns into violence when he discovers why she is so keen on his money. Peschke is a burned-out businessman waiting to pick up a colleague at the airport who doesn't show up. There he loses his wallet and wrongly suspects an Angolan boy of stealing it. To make amends, he offers to drive the boy to his relatives. The two of them embark on an odyssey in which Peschke loses his car and almost his mind in the process as well. "Night Shapes" is a hard-edged and humorous look at life in Berlin at the end of this century.
7. GREAT BRITAIN - Wonderland (2000) by Michael Winterbottom
Set in present-day London, the film follows each of three generations of a family through one wintry November weekend during the city's traditional Bonfire Night celebration. Their respective places in life - from that of the mildly unhappy, aging parents to those of the three searching daughters and estranged son to that of their young grandson - weave together in a vivid kaleidoscope that is simultaneously invigorating, depressing, challenging and endearing.

The director's choice to film "Wonderland" on location in the pubs and streets of London in super-16 mm, with a hand-held camera and natural lighting, gives the film a realism that is at once tragic and honest. Added to this is the entire cast, who embody their characters so completely that one might forget they're even acting. Michael Nyman's despondently blissful score appears under the sped up and slowed down images of a dreary London, boldly expressing the characters' inner melancholy, making "Wonderland" a film that retains a glimmer of hope even at its bleakest moments.

8. ITALY - The Queen of Chess / La Regina degli Scacchi by Claudia Florio
Claudia Florio, also nicknamed in Italy as "Our Lady of the Thriller", wrote the screenplay of this true story, told by one of the characters. Real names and places, have, of course, been changed.



Seventeen-year-old Maria Adele, pretty and intelligent, has a knack for chess. She's got the makings of a real champion. Watching her playing expertly on five different check boards at the same time. Emilio, a young journalist, seeks her out for an interview. She suffers from recurrent nightmares regarding her childhood and one day searching among her deceased mother's belongings for photographs, Maria Adele realizes that she's been adopted. Yet Emilio's real aim is not the girl, although he greatly admires her skills. He is really after Mr. Sterlizia, a somber figure, who acts as the girl's chess master and mentor but whom he suspects has a past as a child abuser. Maria Adele is hurt and feels betrayed by her loving father for not disclosing the truth and misused by Emilio, whom she suspects of pursuing the scoop of a lifetime. The girl would like to know the truth about her real parents. Mr. Sterlizia, who, through his job at the Juvenile Court, is in a position to help Maria Adele & promises her to find out her natural parent's names, should she beat him in a chess game. Maria Adele wins the game, which is extremely difficult, because Sterlizia brings to life his shady past during the game. Maria Adele meets her real mother but the woman she finds is withered and hard, with no joy or love left to give. However, Maria Adele decides to go and live with her. It is only when she confronts her, then loses a chess game for the first time, that the past will come back to her with all its force, and the real meaning of her worst nightmares will finally surface.

9. NETHERLANDS - Leak / Lek by Jean van de Velde
A young cop is forced to run an old buddy turned drug-dealer as an informer. A drama about drug trafficking and corruption in the Dutch police force. Based on a true story by former Dutch policeman Jan van Daalen.

10. SPAIN - Flowers from Another World / Flores de Otro Mundo (1999) by Iciar Bollain
Patricia, from the Dominical Republic, seeks both home and financial security, which her illegal situation in Madrid makes it impossible for her. Milay, born in Havana, is 20 years old and the whole world yet to see. Marirosi, from Bilbao, has a house and a job and is utterly lonely. Just as lonely are Alfonso, Damian and Carmelo, the men of Santa Eulalia, a town with neither marriageable women nor a future. These men and women are brought together though a singles party and so begin this bittersweet tale of relationships that are at times impossible.
SCHEDULE:
October 10 (W) - Bye Bye Bluebird (2 p.m.), Classic (Klassik) (5 p.m.), My Little Business (Ma petite entreprise) (8 p.m.)

October 11 (Th) - Night Shades (Nachtgestalten)(2 p.m.), Queen of Chess (La Regina degli Scacchi) (5 p.m.), Leak (Lek) (8 p.m.)

October 12 (F) - Gaston's War (2 p.m.), Flowers from Another World (Flores de Otro Mundo) (5 p.m.), The Christmas Oratorio (8 p.m.)

October 13 (Sa) - Wonderland (2 p.m.), Suzie Washington (5 p.m.), Bye Bye Bluebird (8 p.m.)

October 14 (Su) - Classic (Klassik)(2 p.m.), My Little Business (Ma petite entreprise)(5 p.m.), Night Shades (Nachtgestalten) (8 p.m.)

October 15 (M) - Queen of Chess (La Regina degli Scacchi)(2 p.m.), Leak (Lek) (5 p.m.), Gaston's War (8 p.m.)

October 16 (Tu) - Flowers from Another World (Flores de Otro Mundo) (2 p.m.), The Christmas Oratorio (5 p.m.), Wonderland (8 p.m.)

October 17 (W) - Suzie Washington (2 p.m.), Bye Bye Bluebird (5 p.m.), Classic (Klassik)(8 p.m.)

October 18 (Th) - My Little Business (Ma petite entreprise)(2 p.m.), Night Shades (Nachtgestalten)(5 p.m.), Queen of Chess (La Regina degli Scacchi) (8 p.m.)

October 19 (F) - Leak (Lek)(2 p.m.), Gaston's War (5 p.m.), Flowers from Another World (Flores de Otro Mundo) (8 p.m.)

October 20 (Sa) - The Christmas Oratorio (2 p.m.), Wonderland (5 p.m.), Suzie Washington (8 p.m.)
CINE EUROPA 4
October 10 to October 20, 2001.
All films will be shown at Shangri-la Cinema 2.